I haven't updated in a very long time, I've lost touch with a lot of you guys ): I hope I can begin to get back in touch with everyone!
Anyway I'll do some quick updates:
I got a job! Well a part time job, at a shop in the next town over, it's just a weekend thing but the money is okay and it's good to have some extra money, so now I can easily balance collecting + going out without worry.
Exams are coming up soon ;-; I need to be doing more work, going to crack down this week, like, it's time to go and live in the library and spend more and more time working at home.
I don't have much new to talk about! Also I thought I'd show my collection, I don't tend to do much of collection updates but I re-arranged some parts of my room today so I thought this is a good time!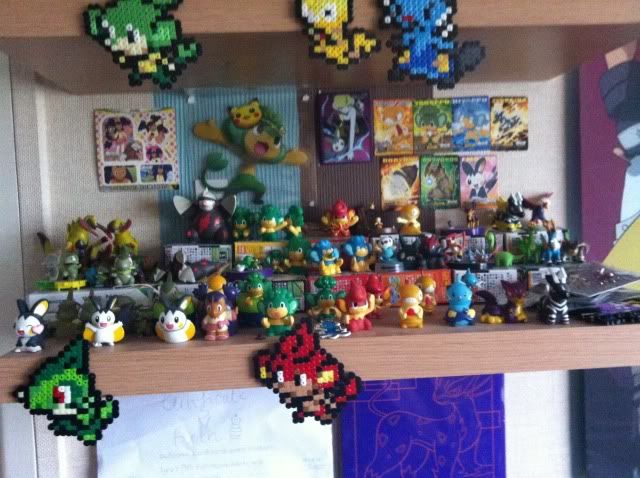 My gen 5 shelf hasn't changed too much, I bought a couple new tomys, but otherwise I just have a pile of things to find a place for/blutac for, that pile is charms and 2 beadsprites.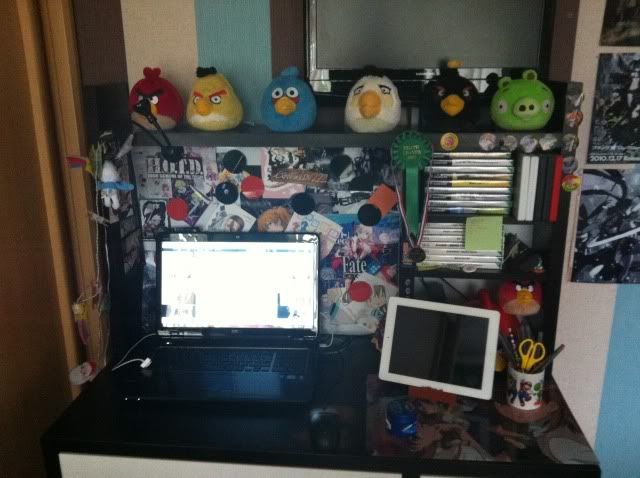 I re-arranged my desk slightly, my Liepard MPC is on here but you can barely see it! It's hidden on the left side of the iPad.
My desk feels so much more spacious now.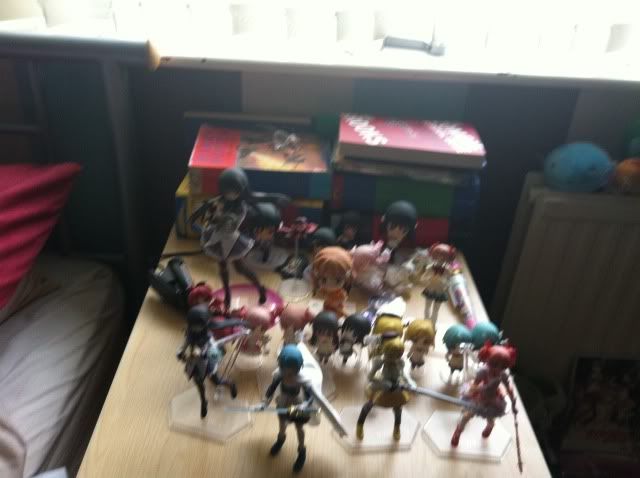 OH GOD THE BLUR
My bedside table has kinda become my secondary Madoka collection point, new additions include the Mami figma, Sayaka figma, Madoka school uniform figma and the Homura 1/8.
Also my Ohana nendoroid is there at the minute, I'm not all too sure why.
This corner got seriously re-arranged! Now my Madoka PSP limited box is being shown off, with the T-shirt, and the plush are all in a more stable pile which surrounds the cushion :D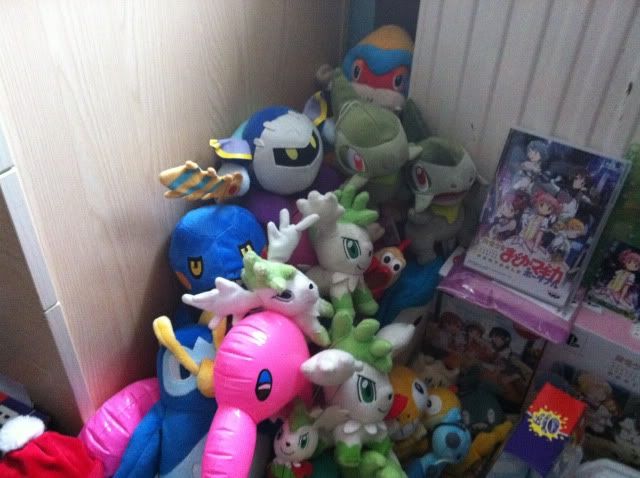 Better shot of the plush pile, the chicken's face in between the Skymin is priceless.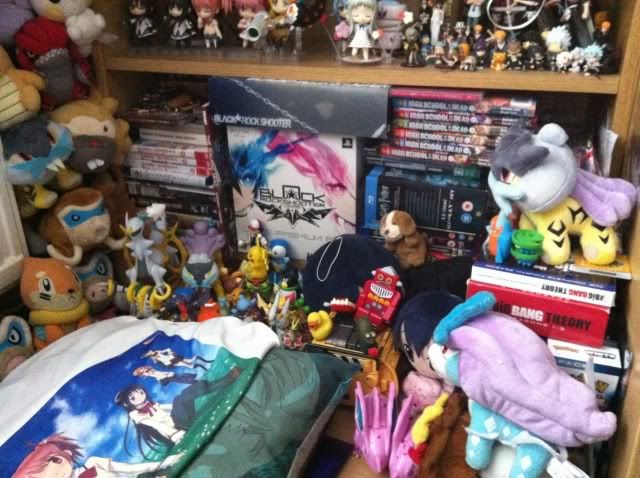 Behind Suicune and Entei are all the Pokémon DVDS I own, I still haven't watched Zekrom/Reshiram films and I've had them for a month!!
That bottom shelf is double layered with DVDs/Manga/books/games now, whoops.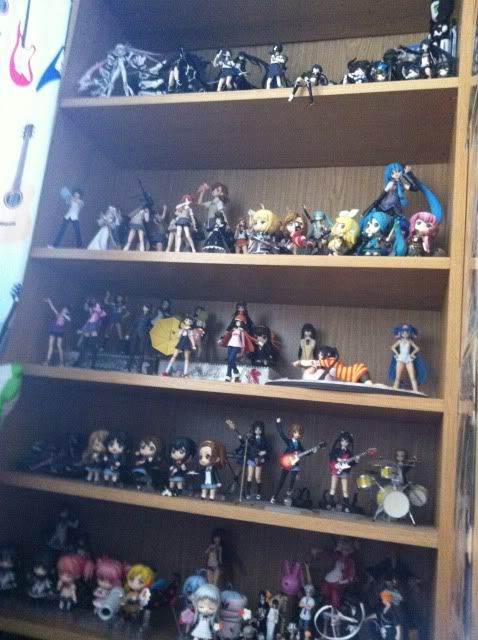 My shelves from that awkward angle on the floor, you can see the other part of my Madoka collection here though, the full size nendoroids, banpresto figure, beach queen and extra Homu figma for when I get the school uniform ver, to make into Ribbon Homura.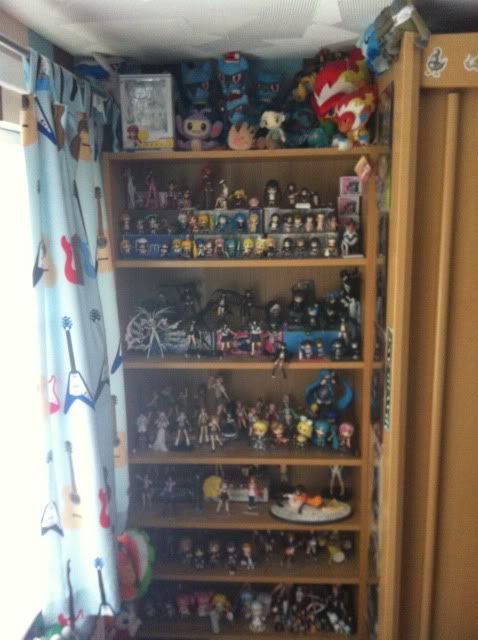 Better, although blurry (why are all my pictures blurry lately?!) picture of my shelves, featuring the Pokémon plush on the top!
And two cutesy Madoka figma group shots (until Kyouko arrives)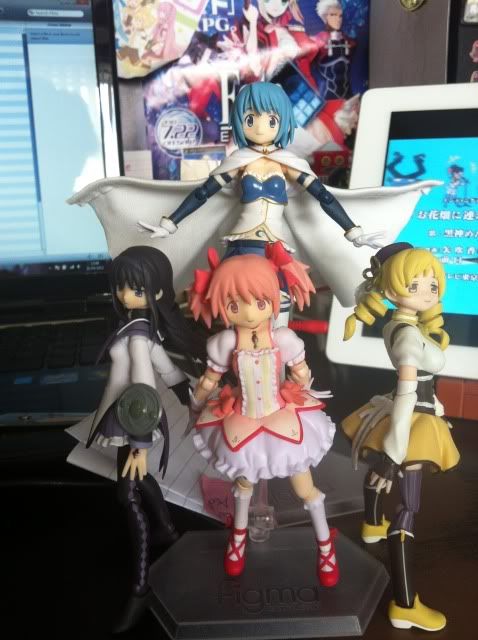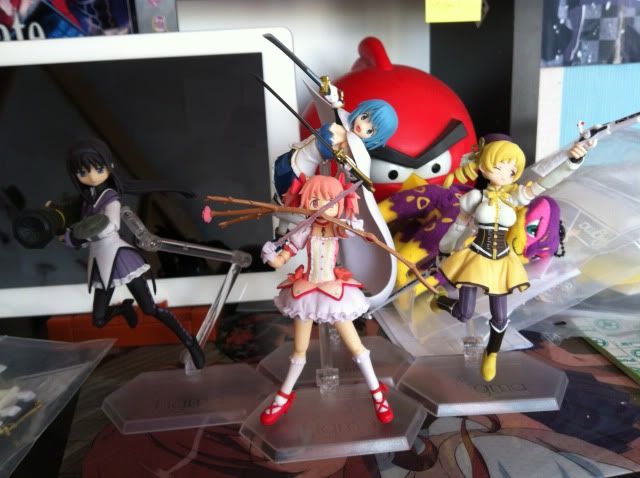 HEY LIEPARD IS IN THE BACKGROUND